On March 30, 2022 me and my class, along with other classes from other schools, went to the Arena del Sole theater to see the Tempest play from William Shakespeare.
After taking a seat in the theater and a few minutes of waiting, the show began.
The show was made by a small company of 4 actors (La Dual Band), who played as various characters who appear in the play of The Tempest. Together with the actors, there was the sound engineer who added songs and sounds to enrich the show, while another technician controlled the colored lights on the stage.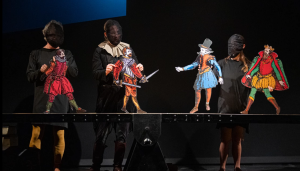 The show followed the original accurately but was a little shortened, while following the Shakespearean language, so it was more complicated than usual to follow the dialogues.
The protagonists Prospero, Ariel, Caliban, Miranda and Ferdinand were present, with also some scenes depicting the other characters of the play. Some characters were only mentioned, for
example Sycorax.
Since there were only 4 actors, they had to play multiple characters and therefore, when they left the stage, they had very little time to change their costume without interrupting the flow of the play. The actors thought about this possible problem, because in fact the play was not impacted by this.
Shakespeare's complicated sentences were expressed correctly and smoothly, as if they spoke naturally in that Renaissance language. As a result, some sections were slow and without movement or activity: there was only the dialogue between two or more actors. One thing to note was Ariel's expressiveness with its songs and the quarrels between Ariel and Prospero, including the angry dialogues between Prospero and Caliban.
Caliban's monstrous movements were well represented. Regarding the costumes of the actors, all were done pretty well, in particular I liked those of Prospero and Ferdinand.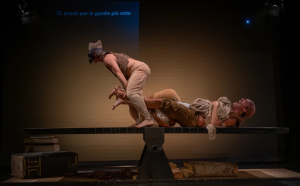 After the final greetings and some questions asked by the audience, we left the theater.
I recommend this play to anyone interested in learning about this Shakespeare play in a more fun way.
Jonathan Hopkins, third grade